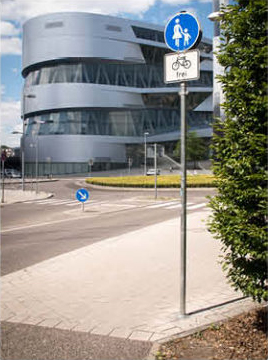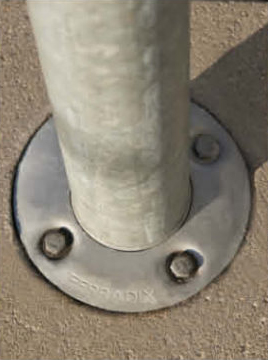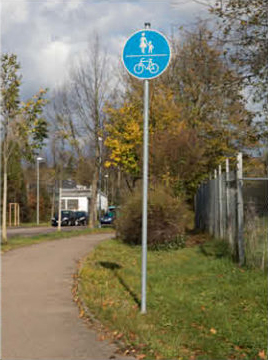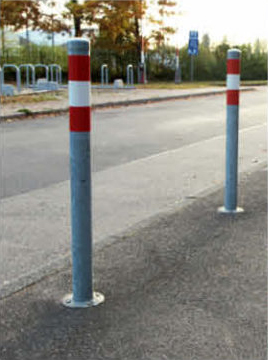 The environmentally friendly impact sleeve for affixing park benches, bollards, barrier posts and signs.
A fresh take on pile foundations –
FERRADIX® ground anchors are environmentally friendly impact sleeves used as isolated footings for affixing barrier posts, signs and street furniture. Since 1985!
The FERRADIX® ground anchor makes it easy and cost-efficient to affix traffic signs, garbage cans, tree guards, park benches, barrier posts, fences, bike stands and so much more.
The idea behind these ground anchors is to minimize the use of concrete in order to avoid unnecessary carbon emissions.
The anchors work in soil, gravel, asphalt (ALPHA), concrete and pavement (CITY).
The FERRADIX® tools offer a perfectly matched system for affixing posts and signs in traffic engineering.
For more than 35 years now, customers from all over Europe have been using environmentally friendly ground anchors from FERRADIX®. Even today, they're still being produced directly by Sträb GMBH & CO KG in Wendlingen (Germany), a traditional steel-processing company with almost 100 years of experience.
FERRADIX® ALPHA = without concrete
The FERRADIX® ALPHA drive-in ground sleeve can be installed entirely without concrete. This saves up to 190 kg of concrete and up to 14,000 g of carbon emissions per pole. Surfaces are not sealed.
Typical applications for this include park benches, road traffic signs, fence and garden shed foundations.
FERRADIX® CITY = saves concrete
For all floor mountings whose foundations require the use of concrete, the FERRADIX® CITY concrete-saving anchor cuts up to 80 percent of concrete compared to conventional methods – thanks to its patented process. This avoids more than 11,000 g of carbon emissions per pole.
Typical applications include barrier bollards in the city, bike stands and road traffic signs, such as on traffic islands.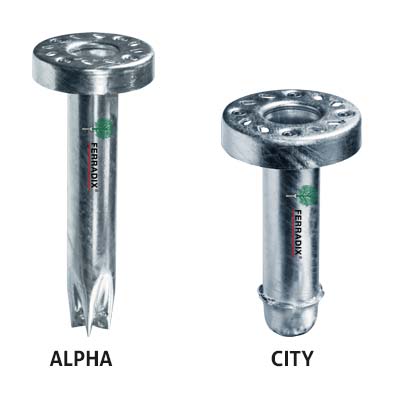 Compare for yourself!
System comparison of cast sleeve in concrete vs. the FERRADIX® root pole
Cast sleeve:
A large surface
(40 x 40 cm) is destroyed.
FERRADIX® drive-in ground sleeve:
Requires only
minimal opening
of the ground surface.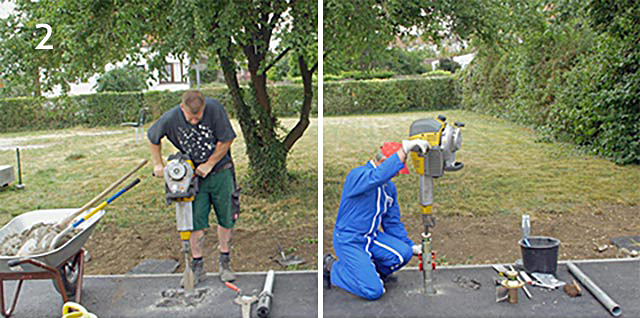 Cast sleeve:
Preparing the large hole
takes hard work…
FERRADIX® drive-in ground sleeve:
Thanks to the pilot hole tube,
the hole is ready to use.
Cast sleeve:
Now shoveling as well!
FERRADIX® drive-in ground sleeve:
No shoveling required – simply drive in the
FERRADIX® ground sleeve.

Cast sleeve:
Mix 190 kg
of concrete…
FERRADIX® drive-in ground sleeve:
The FERRADIX®
is already in,
without any concrete at all!
Cast sleeve:
Now you need to get
the cast sleeve
into the hole –
an annoying process…
FERRADIX® drive-in ground sleeve:
The pole is already in
and fully mounted!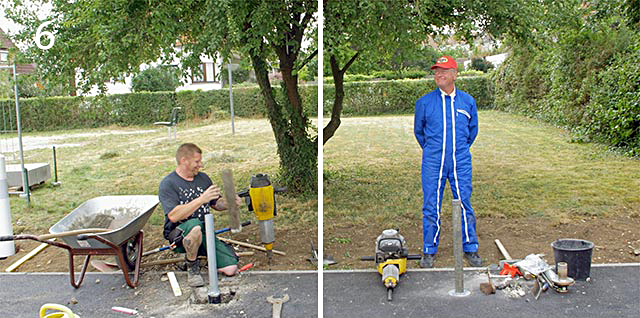 Cast sleeve:
Still so much to do,
including lots of
cleaning up!
FERRADIX® drive-in ground sleeve:
Done and dusted –
and no dirt
to clean up either.
Whether height-adjustable pole supports, adapters for road bollards or bike stands –
our traffic engineering accessories make the task that much easier!
As a full-range supplier of anchoring technology, FERRADIX® offers a comprehensive portfolio of professional accessories – all from a single source. So that foundations and street furniture fit together – guaranteed.
Height-adjustable post supports make it quick and easy to mount wooden beams. And for larger loads, such as a garden shed foundation, there's the U-shaped post support.
The new Lockfix adapter plate transforms stationary bollards into interchangeable bollards in no time at all.
Quick and easy installation of FERRADIX® ground sockets with specially developed tools
The tools' ergonomic quality has been optimized down to the last detail. Thanks to minimal intervention, the environment is protected and surface sealing minimized.
Even rough and rocky soil can be successfully worked on, and the task requires far less effort. For many users, this is what makes the FERRADIX® ground anchor | root pole the product of choice when it comes to affixing signs in traffic engineering.
Video: How to replace a post or attach a cover plate – quickly and easily
If accidents occur and posts are bent, the FERRADIX® quick-change system enables replacement within minutes. Instead of having to replace the entire post sleeve, all you need to do is replace the damaged clamping ring. This saves time and money and prolongs the service life of the foundation. Sustainability at its best!
Traffic signs, bollards, garbage cans and a great deal more can all be replaced quickly and easily.
For areas that are only used temporarily, a specially manufactured and hot-dip galvanized cover plate is available. This allows unused foundations to remain in place and permanently ready for use. Typical applications include foundations for snow poles, barriers for public festivals, marketplaces, etc.
Sustainable anchoring technology – the environmentally friendly impact sleeve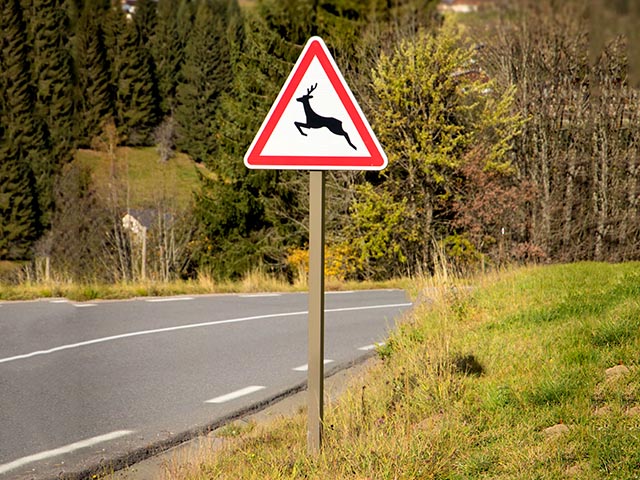 Concrete production is responsible for about 8 percent of all man-made carbon emissions. Which also leads to a shortage of sand, a vital resource.
Thanks to the possibility of concrete-free installation, the FERRADIX® root pile helps shrink our ecological footprint. Each FERRADIX® ground anchor installed without concrete prevents over 190 kg of concrete from being used. This saves unnecessary carbon emissions, while also leaving the ground unsealed.
The FERRADIX® ground anchor root pole is made of hot-dip galvanized steel and can be reused several times. Replacing it is that easy!
To keep transport distances short and ensure top quality, FERRADIX® products are developed and produced in our own manufacturing facility in Wendlingen (Germany). You can choose from over 300 variations for combination and design.
® Applies in all EU countries and Switzerland