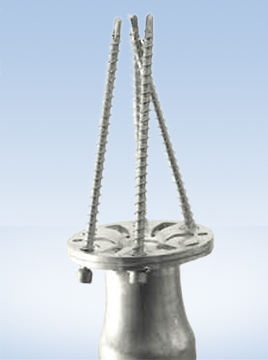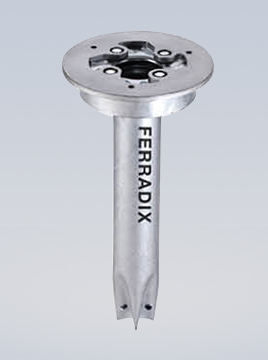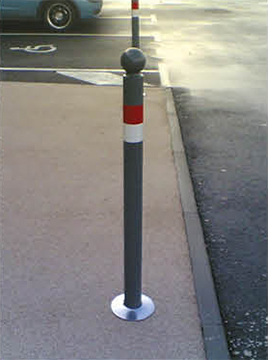 Adapters for park benches, waste bins and street furniture – accessories for ground anchors
Wooden post supports, adapters for barrier posts and park benches – the ideal accessory for the drive-in sleeves
Once you're familiar with the FERRADIX® ground anchor and require further applications, you'll find a wide range of solutions at your fingertips.
Just like a building block system, you can extend the use of the FERRADIX® ground anchor with additional elements such as Lock fix und TOP safe bollard locking, "GOTHIC" SUPPORT, REFLECTOR POST SUPPORT, BENCH ANCHORING, TEMKA PingPongTM POSTS – all of which enable a wider range of FERRADIX® ground anchor applications.
Our consultants will be happy to meet with you personally – just schedule an appointment with us. We look forward to working with you!
Lock fix and TOP safe – the flexible bollard locking

The new FERRADIX® LOCK fix enables the super quick affixing and removal of bollards. It's ideal for the temporary cordoning off of roads and areas for weekly markets, town fairs, parades etc.
Thanks to the TOP safe, the ground surface remains covered even when the bollard is removed – which makes it extremely safe.
LOCK fix
For FERRADIX® ALPHA and CITY, ø 60 and ø 76
Self-locking after insertion
Mounting with triangular wrench key
TOP safe
For FERRADIX® ALPHA and CITY ø 60 and ø 76
Slot enables affixing of bollard when surface is closed
Adjustable height
Stainless steel
The height-adjustable wooden post base – "GOTHIC" SUPPORT
The so-called "GOTHIC" SUPPORT developed by the Sträb GmbH is an impressive demonstration of how new applications can be continuously and successfully derived from existing technology.
Dome-like long screws sloping backwards create a robust skeleton. Freestanding posts and pillars of all shapes and cross sections can thus be affixed without a sidelong post shoe – an obvious aesthetic plus.
The screws are driven in diagonally and sever the wood fibers to give the post a maximum degree of additional stability.
Thus, the "GOTHIC" SUPPORT does away with the need to be pressed into a predefined U-shaped or square form.
Easy height adjustment even after the foundation has been installed
Posts with any cross section can be used
Screws are screwed in diagonally, creating maximum stability
Easy installation: simply insert and screw tight
Two different sizes available:
For square posts of up to 14 x 14 cm and round posts with a cross section of up to 14 cm
Aeration of the bottom side of post through the Venturi-Effekt
Made in Germany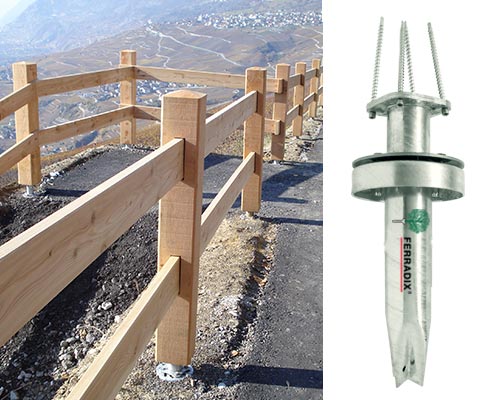 Wooden post base "GOTHIC" SUPPORT – video load test
Robustness and longevity are of the highest importance when it comes to post anchoring. For this reason, we decided to carry out a load test with our "GOTHIC" SUPPORT.
Our goal was for the "GOTHIC" SUPPORT to withstand a load of at least half a ton. We applied stress to the most sensitive area of the screw connection with our 1.7 ton Mercedes.
Watch our video to see the results.
This technique is suitable for temporarily installing signposts, for instance at sports events or festivals. It's also recommended for when several post shafts need to be installed together. This creates a wall which is ideal for such things as advertising election campaign information for several different parties. After the event is over, the reversible post shaft can be sunk into the ground and screwed tight within minutes. This makes it available for the next event, too.
Includes a 60 cm cross section standard ground foundation
Assembled and disassembled within minutes
Doesn't bother when not in use
At ground level
Galvanized steel design
Aesthetically pleasing surface in the application area
Made in Germany
Affixing TEMKA PingPong posts
Firmly joined to ground anchor bolt by means of a tailored mounting plate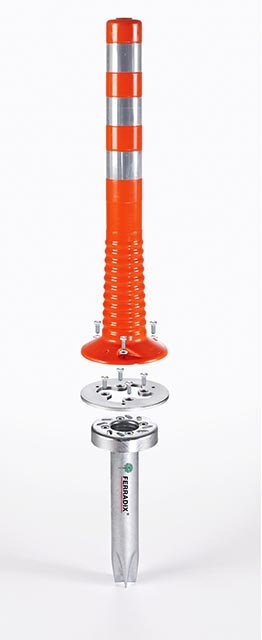 Suitable for soil and tarmac
Stable installation even when the ground is soft
Can be easily closed with a covering plate (200117)
Galvanized steel design
Made in Germany
Trim plates
Give your city a sense of style
Technology in its most beautiful form – your own colors or the embossed city coat of arms also beautify your cityscape
Our tasteful trim plates can give a special kind of charm to any traffic sign or trash can. They lend the character of your choice to any cityscape. Particularly in special places, streets and parks, certain colors and shades can be true eye-catchers. This can also increase the sense of wellbeing of tourists and passers-by. Even old and worn traffic signs and urban furniture can be embellished this way.
The fact that no concrete is used when fastening ground sockets prevents the emission of CO2. Show your commitment to the environment with your own city arms.
Suitable for soil and tarmac
Can be easily closed with a covering plate (200117)
Stable installation even when the ground is soft
Galvanized steel design, available as a polished stainless steel version
On request in different RAL colors. (from 10 pieces)
Posts available with round, rectangular or square profile
Made in Germany
Your own coat of arms or logo on the FERRADIX®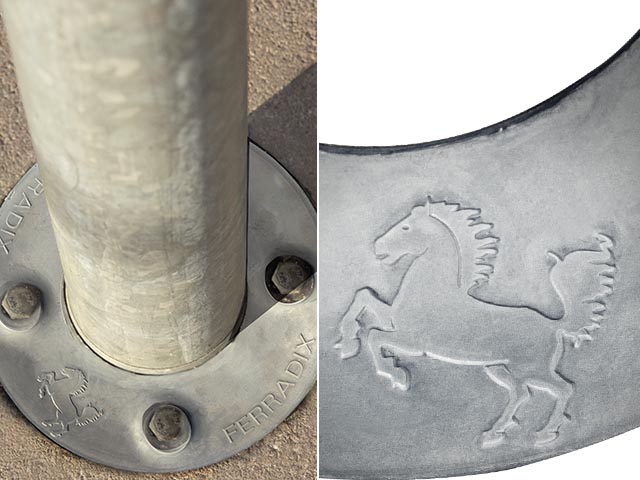 Emboss your own coat of arms or logo and thus beautify your cityscape, the state capital Stuttgart has already done it!
Special edition: lacquered face and cover plates
Minimal effort, maximum effect
Our standard face and cover plates come in a neutral light grey color. Yet they also leave room for your architects and city planners to exercise their creativity when it comes to design. You can mix colors or select a specific tone to bring liveliness and a fresh look to your city or municipality.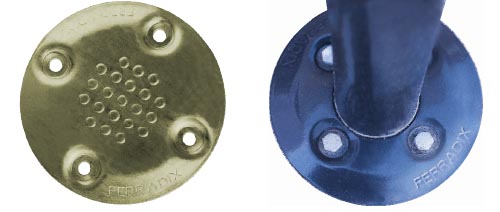 Simply screw onto the ground anchor
Also available in polished stainless steel
Available in different RAL colors upon request (min. order of 10)
Available for round, square or rectangular posts
Made in Germany
Video: how to quickly and easily replace a post or attach a cover plate
The heart of the drive-in sleeves is the innovative quick-change system.
Our goal: If posts are broken and need to be replaced, the entire foundation should not have to be replaced immediately. Instead, with our system, only the damaged post is changed in a few minutes, the underground anchoring remains in place. That saves time and money!
Interested? Call German Käsmeier at +49 (0) 7024 9410-10 or contact him by e-mail: german.kaesmeier(at)straeb.de
® Applies in all EU countries and Switzerland